A Day at the Laverton Races
On Sunday, Laverton held one of its bigger events of the year– Laverton Race Day.  Even though it is a town with a little over 300 people, Laverton actually has a horse racing track.  Complete with fancy hats and fancy dress, Laverton Race Day brings out the entire town.  Horses and jockeys from around the state come  to race and the bookies are there as well to run the gambling.  Unlike fancy city race tracks that run the betting by computer, the bookies here actually used their namesake to record wagers.
I have never shot horse racing before but I have always wanted to.  It is definitely a sport that you need to cover from multiple places at the same time (i.e., by using remote cameras) but unfortunately I didn't have remotes or the guts to leave a camera sitting around waiting to be covered in orange dust.
As I was getting the hang of shooting, there was a big crash at the finish line during the 3rd race (which of course, I was at the opposite end of the track for) and a jockey went face first into the dirt.  After the crash, they called off the rest of the day's races for safety reasons which was a huge bummer.  All the rain that Laverton got a few weeks back really messed up the track and the conditions just weren't safe for the jockeys.  However, the actual races are only part of the day's fun.
After the races, they play a gambling game called "2UP" which is basically just flipping coins and betting on heads or tails.  One person stands in the middle of a big ring and flips two coins at once.  You find somebody else standing around the ring and bet "heads" or "tails."  So, if you bet "heads," the other person is betting on "tails."  If you win, you take that persons money and visa versa. I tried to photograph the game, but never really ended up with the picture that I wanted.  I posted a few below anyway.
Despite the race cancellations, it was still a fun day and a good change of pace photographically.  Hopefully they will have better luck with the track next year.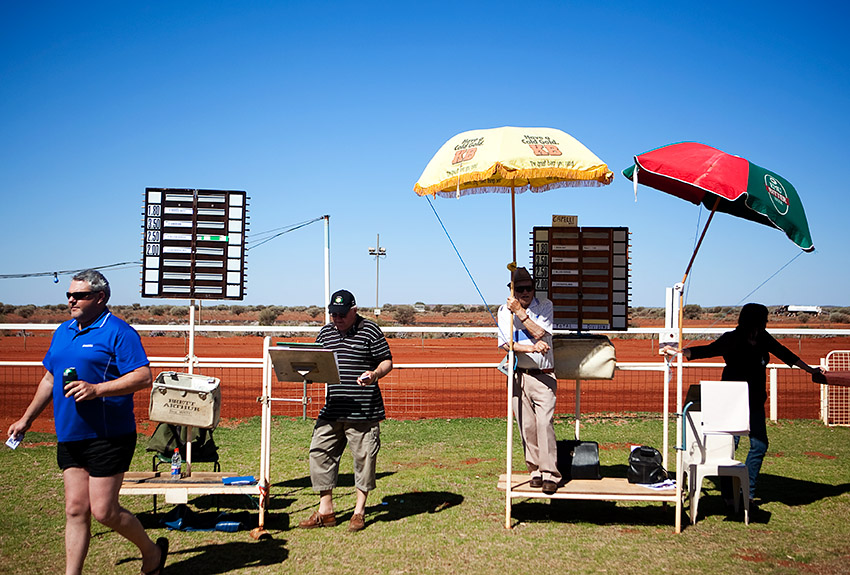 Bookies, using actual books, take wagers before the start of the first race during Laverton Race Day.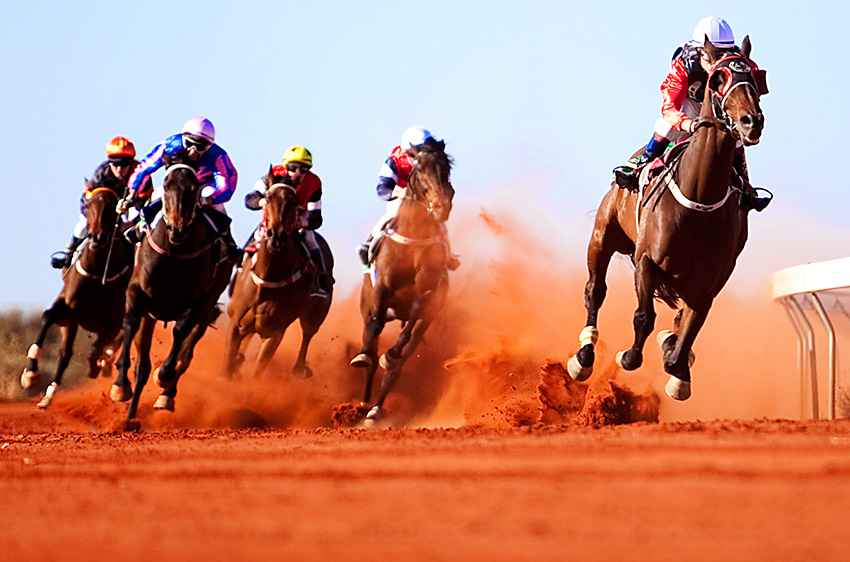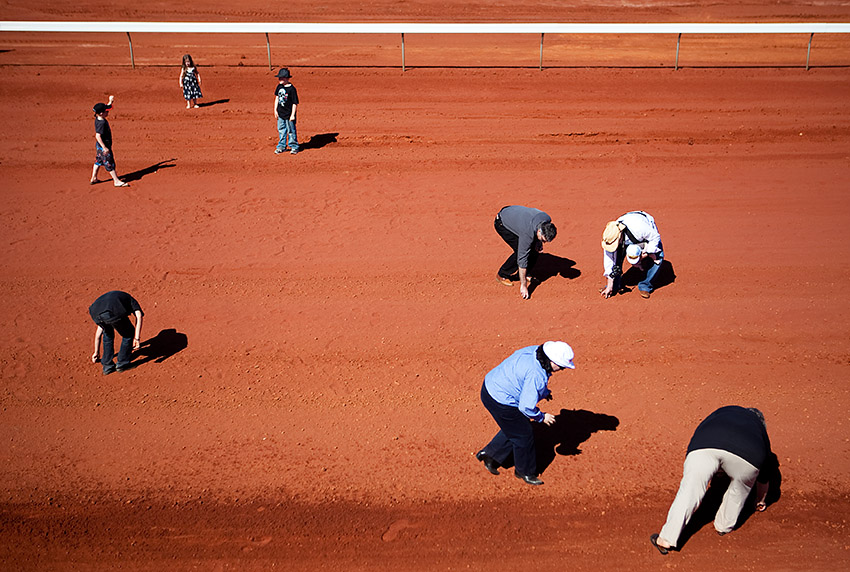 Volunteers from the crowd pick up rocks and debris to try and improve track conditions before the start of the Laverton Races.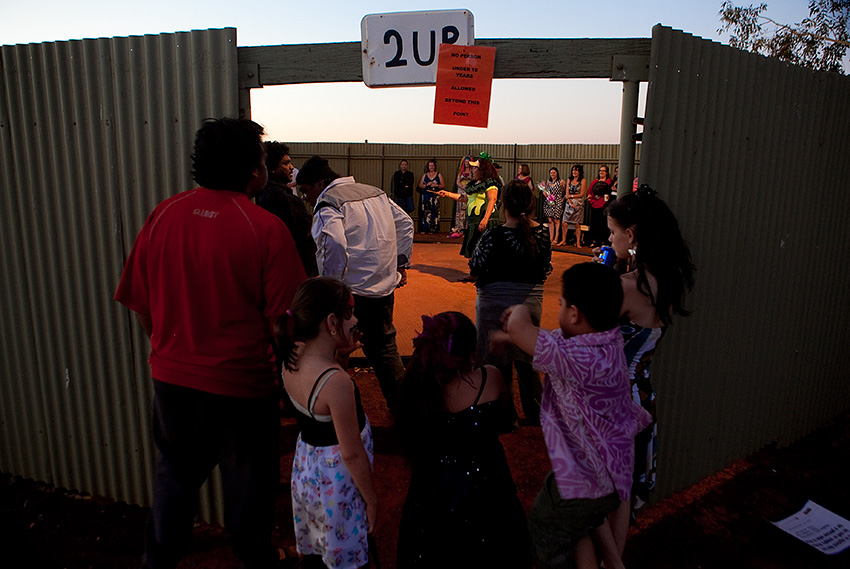 Younger members of the crowd try to get a glimpse of a game of "2UP" being playing inside the licensed ring at the Laverton Racecourse.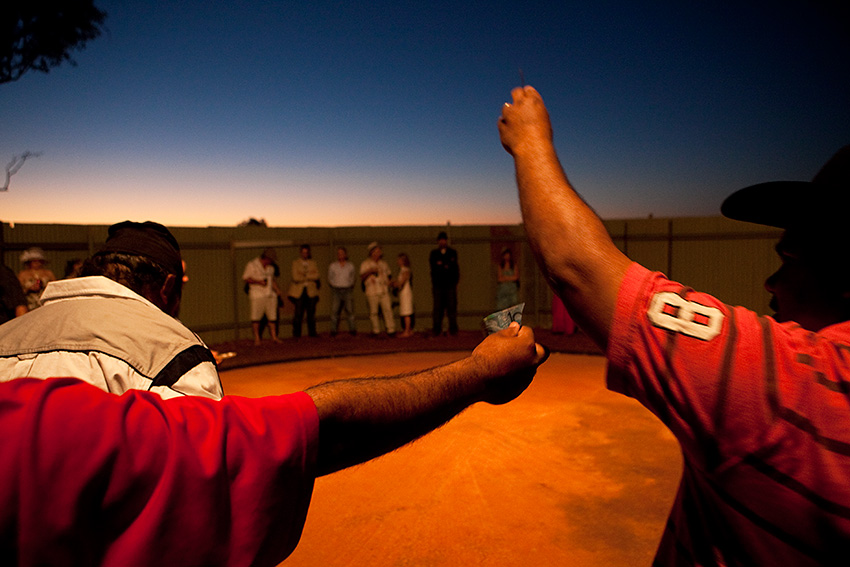 Men place wagers on whether coins will land "heads" or "tails" during a game of 2UP following the Laverton Races.  ( I just liked the color in this picture.  This is exactly what it looked like straight out of the camera…)